Beloved Maha Chohan is the representative of the Holy Spirit.
He presides over the Ascended Masters who we know as the Lords of the Seven Rays.
In the most incredibly rare book, "The Ascended Masters Write the Book of Life", published by Bridge to Freedom in 1975 we found this gem of a Teaching.
It is the Code of Conduct for a disciple of the Holy Spirit.
You will find the teaching to be written so clearly and lovingly, without hint of religious overtones, that it may be shared with anybody and appreciated by all.
Here you can listen to Mother giving a brief lecture on the Code of Conduct.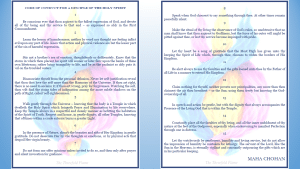 You may download a copy of this document here   Download as Image File.
Also you may download as a PDF here   Download as PDF file.
God Bless You.